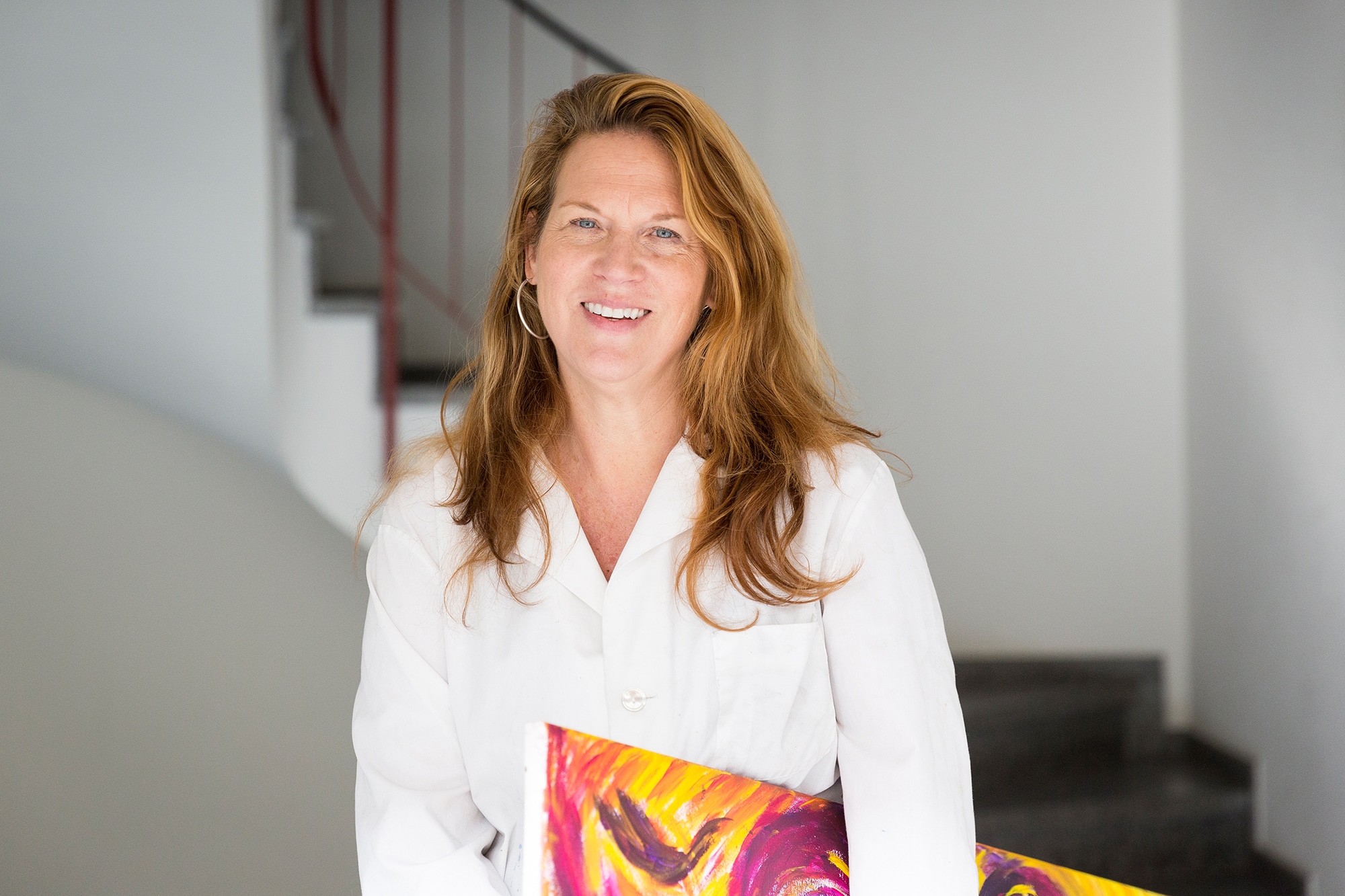 «Art, in any form, can provide individuals with additional mental abilities and skills», says Allison Tisdale Régnier. The 54-year-old US-American firmly believes that if people use more of their «right brain processing skills», i.e. the creative part of the brain, their «left brain processing skills», the logical part, will expand as well.
Régnier is currently in training to be an art therapist. She works at a studio in Basel, Switzerland. Here, Régnier offers a variety of classes and courses for beginners, amateurs and experienced individuals, including a course called «Paint Your Heart Out» that is designed to teach people how to process their emotions through art.
Ms. Régnier, you have lived in a number of countries. Today, you regularly commute between France, Switzerland and Germany. How does that work?
I am a permanent resident in France, but I do a lot on each side of the border, every week. There are even some days when I go to all three countries. That's just the way my life is. So, despite not living in Basel I spend about thirty percent of my time here. I have a studio in Allschwil where I prepare and conduct the various workshops and where I also do my own stuff. And, of course, I do exhibitions here too. The same goes for Germany. I don't live there, but I spend a significant amount of time in the country. Basically you could say that I'm a frequent «Grenzgänger».

What is it like being an expat in all three countries?
I've honestly had different experiences in each. When I'm in France, I don't really think about the fact that I'm an expat. I know I am. But I have tried to integrate as much as possible. A big part of it has been learning the language. And I don't hang out with expats there. At least not most of the time. I only do that when I am in parts of Europe where I can only communicate in English. But the cities around here tend to have a significant population of expats and are more forgiving. So it's okay to embrace the fact that I am an expat too.

«My advice to other expats: Find a way to build a bridge instead of a wall.»
What advice would you give other expats living in Switzerland?
I hesitate to give them advice, because I don't live here full-time. But I do have have a little guidance that I think applies anywhere: Find a way to build a bridge instead of a wall. And I don't mean that it has to be something big. It can be small. Even mundane. Just find a way to connect and bond with people, through shared experiences. Whether its your neighbours or your co-workers.

When did you start working in Basel? What led to this decision?
To be honest, it is largely due to a series of coincidences. One night, while at a dinner party, I met a Canadian who is member of a group of artists called Front of Bicycle. They're situated in Basel. And he told me what they do, what kind of people are involved and he invited me to stop by. I thought it sounded great. Unfortunately, I was very busy at the time and it wasn't until a few years later that I finally approached him again. At which point I met the people who had started Front of Bicycle and they said: We are always open for more people. So, I took a chance and joined.

What opportunities has Front of Bicycle been able to offer you?
Two things. First: About a year after I had joined the group – in 2016 – I was able to exhibit my work for the first time. That was great fun. And second: I got to meet a lot of new people who were friendly, cosmopolitan and relatively like-minded. Including the woman I now share a studio with in Basel!

Has your time with Front of Bicycle turned out to be successful?
Yes, to a certain degree. I would like to do more shows – but that's a matter of funding. Each time it costs about 500 CHF just to partake. But I'm not limited to working with Front of Bicycle. I'm also doing things independently of this group. As a matter of fact, I have a number of projects going right now.

What are you working on at the moment?
Recently, I've been doing a lot of «process painting». I'm not a fully certified art-therapist – yet. But I have completed a number of training sessions that enable me to design my own workshops and I am in the process of expanding my credentials. For example, I offer small groups and individuals different types of classes to enable so-called «inner healing». I call the project: Paint Your Heart Out. It is designed to teach individuals how to handle and cope with their mental state non-verbally. The sessions are about one and a half to two hours long. Besides that I also teach a journaling and a jewellery workshop. That is just something fun, after which people have something nice to take home with them. Overall: I like to give people something that is beautiful but also meaningful. And connect it with my, you know, skillset.

«Visual processing is as important as the verbal – they overlap.»
What was your incentive for Paint Your Heart Out?
It all started when I realised that that's how I work out my own emotions. For years I have been keeping both sketchbooks and journals – writing in one and drawing in the other. That's how I organise my thoughts. Only recently these two have started to merge. The lines began to blur, and that's when I noticed that visual processing is as important as the verbal – they overlap. The next step was to get the necessary qualifications to teach.

What credentials do you already have and what do you still need?
I completed a workshop in the Netherlands last fall. Which has provided me with the basic knowledge to get started. And right now I am doing an online course. When I finish that I can call myself a «practitioner of art therapy». But the long-run objective is to become a certified art therapist. Which does not mean that I won't continue offering workshops – there is no reason to wait with that.
What expectations did you have for the classes when you first started to offer them?
When I started, I just wanted to be sure that the individuals who came to my workshops actually benefited from them. I wanted the painting exercises to help them. And, so far, those expectations have been met. People are responding incredibly well. What hasn't worked out so well are the group sessions. I had initially thought that they would be easier than the one-on-one sessions. But as it turns out, they are a lot harder to organise. But I have faith that it will work out as well. It's just a matter of making more noise.

«When you are in that moment where time itself is suspended – that is a very happy place.»
What has been the biggest challenge in getting the workshops going?
Probably learning how to market. You know, getting the word out. Public relations is not my strongest suit. But the demand is there. So, it's just about developing those skills.

What is the best thing about your job as an artist – and what is the worst?
Honestly, there are a few things. It's hard to pick. Because when you yourself are in that creative process and you're in that moment where time itself is kind of suspended – that's a very happy and peaceful place. It's when you can speak this non-verbal language fluently that only you know. That is a moment that artists love to be in. Sometimes there is a struggle and a fight in there – but it's still a place where you want to be.
That, in and of itself, is too selfish though. Too isolated. Artists don't create something uniquely for themselves. Their work is meant to be shared, meant to be seen. Some find that easier to do than others.

What are your plans for the future?
Art can be very vulnerable. Particularly process painting. It is something that is often only for your own viewing. However, that being said, I think it might actually be interesting to work with people who have done a Paint Your Heart Out workshop and to organise an exhibit together. It could be an opportunity to show what is going on in all of us emotionally. But maybe inviting people to share one of their pieces publicly won't come across so well. We'll have to see.
Allison Tisdale Régnier was born in Elmhurst, Illinois – a suburb of Chicago – and raised in Northern New Jersey, the suburbs of New York. During her Undergraduate at the Texas Christian University in Fort Worth Régnier majored in Interior Design and minored in Fine Art. Which she topped off with a Master in Intercultural Communications at Wheaton College.