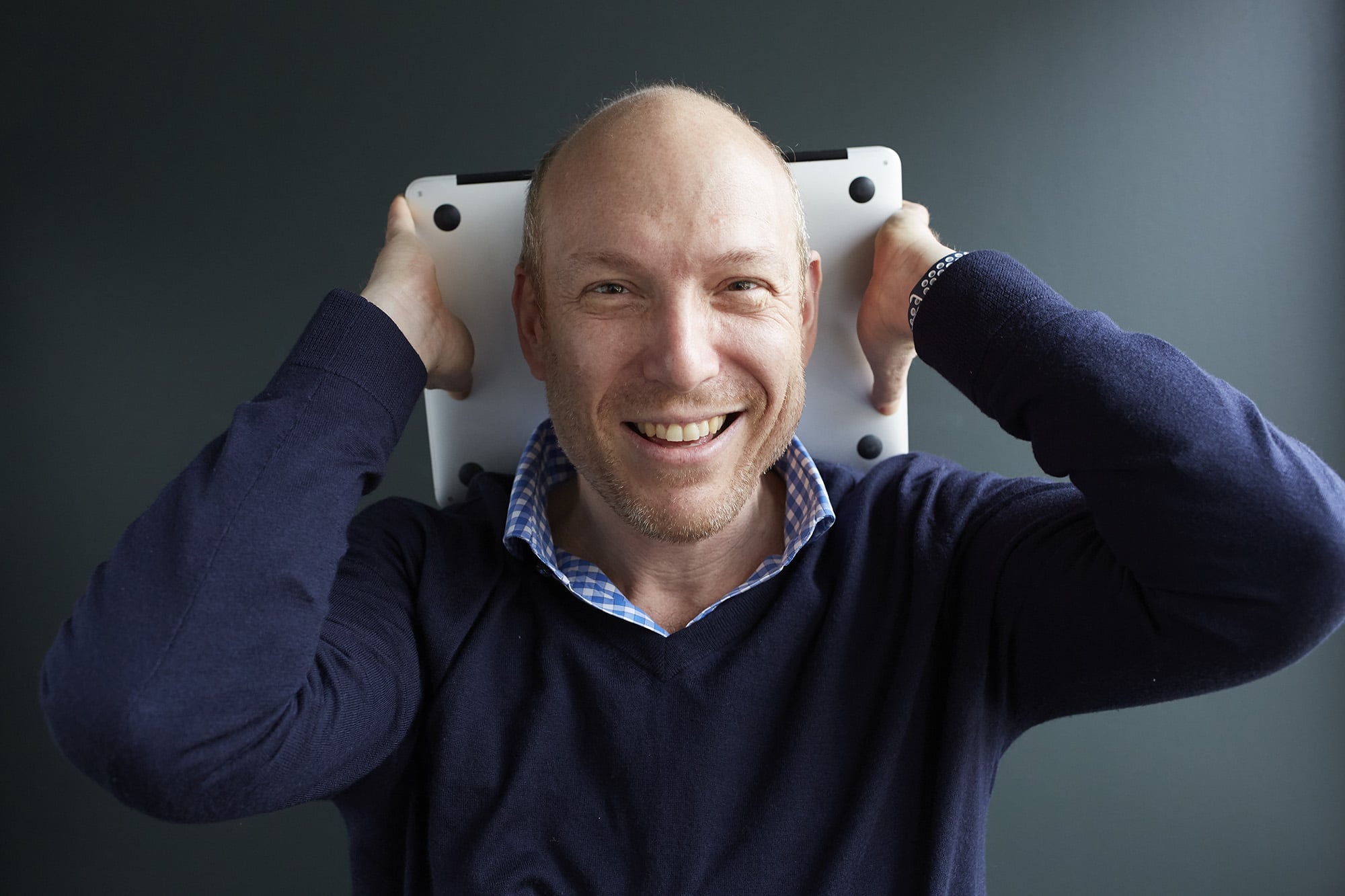 «We came here trying to really get the most out of the experience and to be a part of things – knowing that we'd be here at least for two to three years», says Radvanyi. «And then, after a while, we just figured out how great it is.»
That was seven years ago.
Today, Radvanyi is the founder of TechLabs, a Basel-based subsidiary of The English Media Network (TEMN). The business's primary mission is to deliver an educational – but entertaining – experience that jump-starts children's, young adults' and grown ups' interest in and understanding of technology.
To make that happen, it offers a so called «Steam» curriculum: Science, Technology, Engineering, Arts and Math.
Generating curiosity
The program has become a requirement in numerous schools across the globe, says Radvanyi: «Early exposure to computer sciences, programming and the different coding languages is considered particularly beneficial to a person's intellectual development. As well as providing them with crucial skills for today's working world.»
In Europe there are, so far, not many «Steam»-programs.
Schools, both public and private, are facing the issue that they don't have enough hours left in a school day to add additional classes due to set learning curricula. «Instead, they're trying to integrate technology into their existing classes. So, now, you'll see classes where kids have iPads and computers», says Radvanyi. «But generally, what they have time for is to teach pupils skills of how to become more productive with their school work using the technology. Meaning: how to write an e-mail, how to use ‹Word› or ‹PowerPoint›. The rest is left until later in the students' education.»
That's where his firm TechLabs comes in.
Its focus is on getting students started. The goal, says Radvanyi, is not to teach the children everything. But to generate curiosity. «I think every parent is aware of this idea. They're not like: Why does my kid need this? No one says that», Radvanyi explains. «But at the same time this city might have been a little behind when it comes to offering these kind of services. There was a lot of pent-up demand.»
When Radvanyi made the move to Basel in 2011 – as a trailing spouse – he was still working as a consultant for the company he had been with in New York, while also being a stay-at-home dad. Being in sales he could support his clients from pretty much anywhere in the world. «We were a technology-focused firm, so it wasn't a lot of one-on-one meetings or phone calls. It was just a lot of typing», Radvanyi says.
«A lot of people find it very challenging to integrate. I was lucky to have been born in Europe.»
His wife had originally been given an opportunity to work for Novartis. The transition developed around the time her contract was coming to an end and the family realised that they wanted to stay in Basel – their lives had started to take shape here.
For example: Radvanyi joined a community of stay-at-home dads – or «Hausmänner». This group acts as a support system and consists in equal parts of locals and foreigners. Together they go to the gym, do the grocery shopping, go for a drink or take weekend trips. «It's great», he says.
Radvanyi has an international family background. Born in Budapest, he first moved at age seven to France for three-quarters of a year and then on to the United States where he remained to complete his studies and started working. He is fluent in English and has a basic knowledge of French, German and Hungarian.
This helped him acclimate. «I think a lot of people find it very challenging to integrate», he says. «But I was lucky to have been born in Europe and to have moved around quite a bit – even within the US. We moved from the Midwest to the East coast where I studied History and Political Science at New York University. So, to some extent, I feel I was prepared.»
Ultimately, this also helped him get TechLabs started, despite it being a big career change. It all started five years ago – in 2013.
A program called «Minecraft Camp»
Radvanyi had just recently joined the group that is running the program «The English Show» on Radio X, when its founders decided to return home and pass on the baton. Radvanyi decided he wanted to be the one to take over. He ultimately bought up the company in charge of producing the show.
This served as the first step towards finding something new to do. Radvanyi had already been thinking about switching occupations, and his search did not end there: «I knew I couldn't do just radio – there's not enough money in it», Radvanyi says. «And so I was still looking for additional work.»
At which point he came into contact with a program called «Minecraft Camp».
«That actually happened by sheer coincidence», Radvanyi says, whose children love the PC game based on building blocks. «My children had heard about these courses and asked to go back to the US during vacation to attend.» Which turned out to be relatively easy to organise: «They had branches all over the country and it became clear that no matter where we went – to visit family and friends – there would be a camp nearby that they could go to», he says.
«Minecraft is the epitome of creativity: Limitless opportunity to build, discover, and problem-solve», he says. «Plus, in recent years the game has been gaining traction as an educational tool. It is seen as an important vehicle for engaging kids in ‹Steam› curricula.»
And after seeing how much fun they were having, it quickly dawned on Radvanyi that this could also work in Europe. «So, I called up the company and I said: You need to bring this to Switzerland. There is a tremendous community here that would be interested. Plus it could be a foothold in an international expansion», he says. As it turned out, they had already had the idea – they just weren't ready to make the leap yet.
But Radvanyi was.
«I took a look at their online curriculum and realised that I could use it to get an after-school program started and eventually work my way up to offering summer camps too», he says.
«In New York you just need to persist until the door opens. Here it stays closed. It's a Swiss door, it's good quality.»
The turnaround was quick. In January 2016 TechLabs offered its first classes – in two of the local private schools. And, about a year later, it broke ground on a project with the GGG Stadtbibliothek Basel. «That's our biggest venue» says Radvanyi. «There we offer these courses almost all week long: Monday to Saturday.» This summer TechLabs will be launching a number of new programs in a number of new locations.
Radvanyi set out trying to generate the same positive and enthusiastic response his kids had to «Minecraft Camp». Which seems to be working: «Per semester we have up to 120 students», he says. «And they're happy to come – they're having fun, they're smiling. That's how I know I'm succeeding.»
Of course, conducting business here is not always easy.
«One thing you learn when you do business long enough in New York is that you just need to persist until the door opens» says Radvanyi. «Whereas here – when the door is closed, it stays closed. Because, you know: It's a Swiss door, it's good quality.»
«When we started it seemed impossible that we could make things like that happen.»
But the country's open business culture has also provided Radvanyi with unique opportunities: «When we started it seemed impossible that we could make things like that happen.»
The company's current challenge is to expand into other parts of Switzerland. Both Zurich and Geneva have responded positively – allowing hubs to go live there a few weeks ago. However, «there are others trying to get similar projects started», says Radvanyi. «Now, they're only offering about a week-long seminar each year. No one is really organising full blown camps that are geared towards different age groups. But – there is more choice.»
Additionally, TechLabs has created strategic networks with «Girls In Tech», a global organization that has an active and influential group of professionals working for it here in Switzerland. This should enable them to reach a wider audience.
Radvanyi is prepared to take things as they come: «It will be interesting to see how the individuals in these cities react to our offer. After all, I am the strange American guy that has come in and is explaining to them what they need.»
Asked what advice he would give other Expats in his situation, he gives the same council he got back then. «Just be open to getting to know the community and to discovering new things», Radvanyi says. «Don't let yourself get shut in – mentally or physically. There are a lot of resources here to support that kind of networking, so take advantage. The rest will fall into place.»
Radvanyi, for one, is definitely not a tourist anymore.