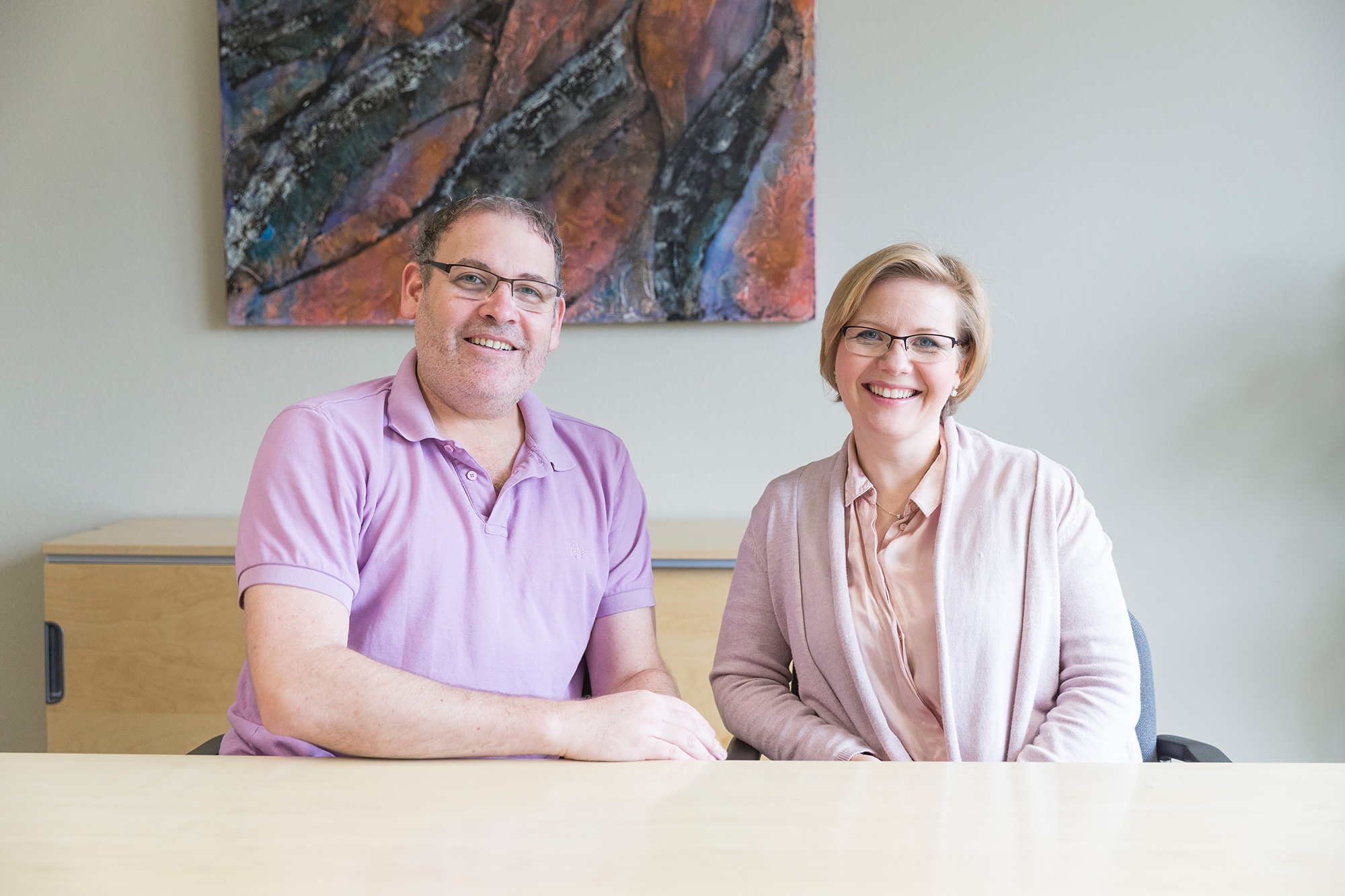 «Information is like milk», says Philip Weinberg (43). «It expires incredibly fast.» He and his wife, Jackie Weinberg (45), are the founders of The Basel School of Business (BSB). And they know just how important it is to provide an up-to-date education.
The couple – married for seventeen years, with two daughters – is highly educated and has a lot of experience in teaching students.
They have devoted the majority of their adult lives to working and teaching at both private and public universities across the United States.
A fresh start
Philip Weinberg was active in the military. He had initially joined right after high school, to pay for university. He returned in 2002, after 9/11, and became a keen photo and video journalist for the army. The job took him to a number of risky locations – including Afghanistan and Iraq, from where he wrote a series of stories and progress reports.
The couple's life changed dramatically when Jackie's father was diagnosed with cancer in 2008. «We turned everything around», her husband says. «We resigned from our teaching posts, packed up all our belongings and moved to Switzerland.»
And there they made a fresh start.
Today, Philip and Jackie Weinberg bring their education, training and experience to use as the directors of their own school. The Basel School of Business (BSB) was founded in 2012. It opened its doors to the first batch of students in 2014.
Within a year, the university was fully certified. «Meaning: we have those letters that mean that your degree is recognised outside of Switzerland», says Philip Weinberg. These qualifications weren't easy to get, but it helped that Jackie Weinberg has a Swiss passport. She was able to fight her way through the bureaucratic jungle and get what they needed.
Jackie Weinberg is president of the university, which means that her main responsibility is to represent the school. She also teaches a number of classes that deal with organisational dynamics, gender issues, fear in the workplace and integration.
Philip Weinberg acts as academic dean. This leadership role requires him to work closely with the faculty and to figure out how to integrate the best learning tools. His areas of expertise cover new product development, consumer behaviour and transformational as well as services marketing.
Outdated lifestyles
Right from the outset, the couple's goal has been to offer an alternative approach to education that diverges from the old-fashioned or so-called «traditional» curriculum common in Switzerland. «At BSB, our slogan really is: ‹An innovative approach to business education›. And everything that we do, we do differently», says Philip Weinberg.
But what does that mean?
«We believe things can be better», says Jackie Weinberg. «School, university, work – they do not have to be miserable.» Which does not mean that it is about making it easier on yourself. But rather, about not having to fit a particular «mold». «That kills the soul», says her husband.
For example: the «Hammering Man». This work of art by Jonathan Borofsky represents labour, industry and the solidarity between those who work. It can be found in a number of major cities around the world. Including Basel, Switzerland.
«He embodies exactly what we don't want to teach our students – working the same job eight hours a day, 52 weeks a year, until you can't go on anymore», says Philip Weinberg. «The lifestyle where an individual starts at a company as an apprentice, retires at 65, takes his or her pension and then dies a couple of years later is outdated. And completely wrong for millennials and gen-Zs.» Instead, they want to show their students that creativity and innovation are more important when applying for a job nowadays.
The BSB's mission is based on past experiences – good and bad. When Philip and Jackie Weinberg first arrived, they were in for an unpleasant surprise. While the couple was working at a private university in the Swiss Romandie, an exam board was brought in at the end of the semester to change the students' grades – «to make even the worst of the worst pass», says Philip Weinberg.
«My signature was supposed to go on these diplomas», he says. «But I couldn't be a part of it, I couldn't put my name on these pieces of paper.» He didn't want to award students – who didn't deserve it – with a degree. «And so I tendered my resignation», he says.
Changing gears
This incident shocked both him and his wife.
It even made them reconsider their plans: «We knew we had to do something else», he says. «So, we approached the Erziehungsdepartement and started looking for a small, private, high-quality university here in the Nordwestschweiz. But there wasn't one – just a gap.»
What next?
«We knew it was possible to change gears, to modernise things», says Jackie Weinberg. It was just a matter of deciding how they wanted to do things.
«What the Swiss are good at is the practical stuff. They do a lot of hands-on training», she says. «But what Americans are good at is the liberal arts. So, those are the two concepts that we tried to bring together when we started to design the school.» Philip Weinberg: «Which is how we then came up with the – meanwhile patented – concept: Practical Experiential Learning. PEL.»
«The guiding principles of PEL are based in part on the teachings of John Dewey» he explains. Dewey (1859–1952) was a philosopher, educator and social reformer, who believed that «education is not preparation for life, education is life itself». His ideas were rooted in the philosophy of pragmatism, stating that reality must be experienced to understand it. «Meaning: both students and teachers should interact with the environment to adapt to and learn from it», Jackie Weinberg continues. «Adjusting to students' learning needs and interests creates a dialogue – and thus a more interactive classroom.»
«Escape rooms are the best way to learn that leadership is about working collaboratively, not competitively.»
That's exactly the kind of learning, they want to promote at the BSB.
As a key component of PEL students are taken on a number of field trips, including companies, corporations and factories. «These excursions serve to reinforce the theories and concepts that are explored during class discussions», says Philip Weinberg. «They help students gain a deeper appreciation for the importance of incorporating multicultural awareness and inter-disciplinary knowledge into business decisions.»
Other activities include paintball, laser tag and – his personal favourite – escape room. «It's the best way to learn that leadership is about working collaboratively, not competitively», he says.
The students are locked in a room in a team of three and have 60 minutes to get out. «During that hour we rotate leaders every 20 minutes», says Philip Weinberg. «Afterwards we ask each of them: How did you do as leader? How did you do as follower? How did the others do in these roles? They then have to explain the discrepancies between what they said about themselves and their perception of their peers.» This provides them with an opportunity to evaluate their own skills and to receive honest feedback.
Small classes
The couple also tries to integrate the learning methods on smaller levels.
«To ensure that our students get the most out of the lessons, we cap our classes. It's six to eight students for the MBA program and ten to twelve for the undergraduates», Philip Weinberg says. And, most importantly, if something does not go well, they are always open to feedback.
«We believe in what we are doing», says Jackie Weinberg. Her husband agrees: «Yes. We are really proud of what we do and of what we have accomplished. And not just that: Our teachers believe in it, too, and so do our students», says Philip Weinberg.
«And we are not even done yet», she laughs.
«Nope», he says. «But what's amazing is that there is no way that we would have been able to do this in America, it's too disorganised – that's the opportunity of Switzerland.»
Jackie Weinberg was born and raised in Basel, Switzerland. After finishing her entire basic schooling she moved to the United States to complete her further education. She holds an Undergraduate Degree in Psychology, a Master Degree in Human Services Administration and a second MD in Clinical Social Work. On top of that Jackie Weinberg is currently completing her PhD in International Psychology.
Philip Weinberg – born in Chicago, Illinois, and raised near Miami, Florida – holds a Bachelor in Business Management from Regents College in Albany, New York. He holds numerous graduate degrees as well: an MBA in Management, a Masters in Marketing, a Master in Accounting and one in Human Resources. He also started working on his PhD, but the project had to be de-prioritised in favour of other responsibilities a few years ago and still remains on the back burner.